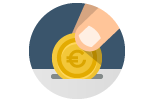 Every donated euro goes to research
We are familiar with Lago Maggiore, and whichever way you look at it, it is a huge challenge to swim across the lake. We are proud of your efforts and wish every success.
Success with your swimming event girls!
Marion, lots of success with this challenge! Go for it
Stichting PXE Fonds was founded in 2014 with the aim of raising money for research of PXE treatment. Most members of the board are patients themselves or have a family member burdened with the disease. The directors are not paid, so every donated euro goes into research.